CAD/CAM stands for "computer-aided design/computer-aided manufacturing". It is through the use of this technology that our dental team is able to provide you with a superior level of care when it comes to crowns, bridges, inlays, onlays, veneers, and similar dental services.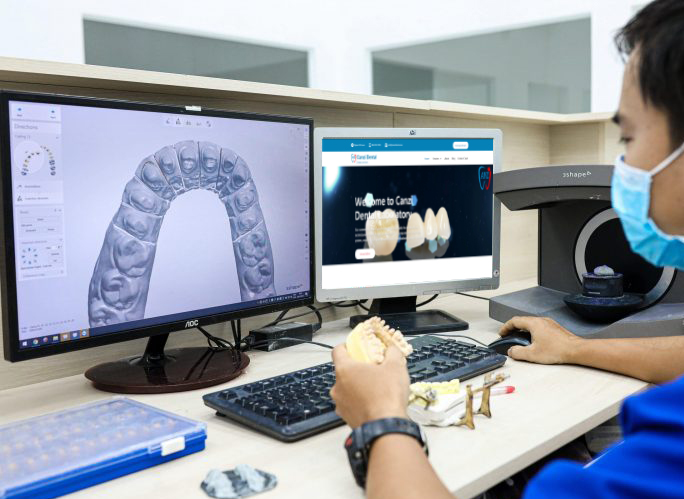 At Canzi Dental Lab, we have embraced the latest digital technology in dentistry while still respecting tradition. With our leading-edge CAD/CAM system and technical expertise, we can process digital files from your oral scanners anywhere in the world. Today's technology helps shorten the distance and downsize the world where we live and work, especially in dental industry. Our digital CAD/CAM center inside our laboratory is a state-of-the-art facility managed by a team of the most experienced digital and CAD/CAM technicians. By combining the latest digital technology with skilled craftsmanship, we will deliver consistent quality and value.
Canzi Dental Lab installed the newest and complete CAD/CAM system. The innovative scanner S600 ARTI is fully automated optical structured-light scanner in combination with specialized scanning software. Precision is ≤ 10 μm. The M1 milling machine is the latest 5+1 axes simultaneous milling unit with wet and heavy metal functionality. It can mill various materials such as zirconia, anterior & posterior full zirconia, custom implant abutment, screw-retained bridge, titanium, glass ceramic, resin, sinter metal, chrome cobalt, raw abutment etc. It also incorporates the cutting-edge wet milling technology. The software package and modules open up a possibility to design and produce all types of restorations we can imagine. It could be the very basic zirconia crown & bridge for veneering with porcelain, or entirely/partially full zirconia zirconia. It could be custom implant abutment or full arch screw-retained bridge. Or even complicated work like bar attachment or hybrid superstructure.
The CAM system itself is integrated directly with the CAM software, allowing us to quickly and efficiently turn the digital models into a finished product. Your new dental work will look great and feel natural, providing you with a strong and reliable bite that will last for years to come.